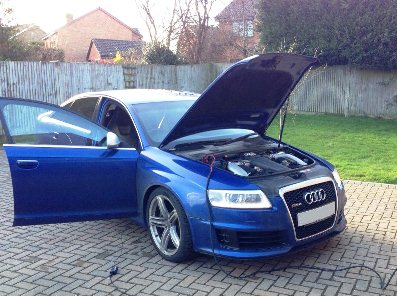 This Audi RS6 5.0 V10 TFSi Saloon has joined the JR Tuning fleet of vehicles and what better way to welcome the beast, treat it to an ECU remap!
The 5.0 V10 in the Audi RS6 is very different from the 5.2 V10 found in the Audi R8 or Audi S6. This 200cc smaller 5.0 V10 engine is found in the Lamborghini Gallardo, but has over 400 unique parts in Audi RS6 C6 trim including the addition of twin turbo chargers! All this extra hardware added to an engine that already produced 500bhp in naturally aspirated form, the C6 RS6's standard power output of 572bhp hardly seemed impressive.
We set to work reading the standard software from the Audi RS6 V10 ECUs (yes, the Audi RS6 has two Bosch ECUs as one doesn't have sufficient processing capacity to deal with 10 cylinders that can rev to 7000rpm and two turbochargers!).
After careful modification of torque limiters, injector and ignition timing, boost limiters and throttle mapping, oh and remove the 155mph speed limiter which the Audi RS6 hits too easily it was time to flash our modified software back onto the ECUs.
The remap resulted in an extra 100bhp over factory, along with much earlier power delivery. Using our race-logic timing box we can see that this car is now pushing 0-100mph in 7.8 seconds, a clear two seconds faster than the standard car. It then continues to pull through every gear with significantly more urgency and torque than before the remap.
If you are looking to remap your Audi RS6 C6 5.0 V10 TFSI Saloon or Estate, adding additional power and removing the Audi RS6's 155mph speed limiter, look no further than JR Tuning. Call us today on 01795 342006 or email info@jrtuning.co.uk
Our Audi RS6 remap tuning work can be carried out both at our premises in Sittingbourne, Kent or mobile at your home or place of work.